One day I was visiting my mom and she said, "you know, you should get a cat"... she said "I have a cat and she makes me happy". I told her my landlord didn't allow cats. I said, "besides...If I could ever have a cat, I'd want something small that always looked like a kitten, and there is no such cat. I'd also like a cat that is talkative (like Siamese cats) but I don't want a Siamese. I'd want something different."

A few days later, I was visiting her again and we heard this meowing outside. She went out to investigate and came back in with a little brown gray and black striped, spotted cat with a white chest and white paws and a little pink nose. Poor little thing couldn't have been more than 6 months old. She looked scared and hungry. I gave her some food and she gobbled it up. She seemed to like me right away and cuddled in my lap and started to purr. My heart melted.. I couldn't help but fall in love with this cute little kitty cat.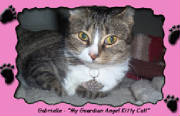 The next day, my mom and I took her to the vets to get her checked out. When I asked how old she was, I was surprised when they said she was at least 4 years old. I decided I couldn't let her go...I didn't care...I had to keep her, I'd figure something out with my landlord. I held her in my arms, looked into her eyes and said, "well little one if you're going to be living with me, we've got to come up with a name for you. So, what could your name be?" She looked up at me in the eyes and meowed, just then the name Gabrielle popped into my head. And I thought, how fitting...Gabrielle...my little guardian angel kitty. I thought back to CJ...and his first words were "kitty cat" and I couldn't help but think he was sending me a message... "Come on mommy... you can do this!"

I guess angels do exist...they come in all shapes and forms. Sometimes they meow.